The Future of the JRPG genre
After an underwhelming false start with Xenoblade Chronicles back when the game came out, the re-release on the 3DS made my give it another try and now that I'm nearly through with the game (just beat the 3rd last main quest boss), I feel compelled to write my first game review after many years of non-gaming content here.
«Review» might not be the entirely correct term though as this article is about to explain why I personally believe Xenoblade to be one of the best instances of the JPRG genre and might actually be very high up there in my list of all-time favorite games.
But first, let's talk about what's not so good at the game and why I nearly have missed this awesome game: If I had to list the shortcomings in this masterpiece, it would be the UI design of the side-questing system and the very, very slow start of the story.
First the story: After maybe an hour of play time, the player is inclined to think to have been thrown into the usual revenge plot, this time about a fight against machine based life-forms, but a simple revenge-plot none the less. Also, to be honest, it's not even a really interesting revenge-plot. It feels predictable and not at all like what we're usually used to from the genre.
Once you reach the half-time mark of the game, the subtle hints that the game's dropping on you before that start to become less and less subtle, revealing to the player that they got it all wrong.
The mission of the game changes completely to the point of even completely changing whom you are fighting against and turning around many things you've taken for granted for the first half.
This is some of the most impressive story-development I've seen so far and also came as a complete surprise to me.
So what felt like the biggest shortcoming of the game (lackluster story) suddenly turned into one of its strongest points.
«Other games of the genre also did this» you might think as you compare this to Final Fantasy XII, but where that game unfortunately never really takes off nor adds any bigger plot-twists, the thing that Xenoblade does after the half-time marker is simply mind-blowing to the point of me refusing to post any spoilers even though the game is quite old by now.
So we have a game that gets amazing after 20-40 hours (depending on how you deal with the side-quests). What's holding us over until then?
The answer to that question is the reason why I think that Xenoblade is one of the best JRPGs so far: What's holding us over in the first 40 hours of the game is, you know, gameplay.
The battle system feels like it has been lifted from current MMORPGs (I'm mostly referring to World of Warcraft here as that's the one I know best), though while it has been scaled down in sheer amount of skills, the abilities themselves have been much better balanced between the characters, which of course is possible in a single-player game.
The game's affinity system also greatly incentivises the player to switch their party around as they play the game. This works really well when you consider the different play styles offered by the various characters. A tank plays differently from DPS which plays differently from the (unfortunately only one) healer.
But even between members of the same class there are differences in play style leading to a huge variety for players.
This is the first JRPG where I'm actually looking forward to combat - it's that entertaining.
While the combat sometimes can be a bit difficult, especially because randomness still plays a huge part, it's refreshing to see that the game doesn't punish you at all for failing: If you die you just respawn at the last waypoint and usually there's one of these right in front of the boss.
Even better, normally, the fight just starts again, skipping all introductory cutscenes. And even if there still is some cut-scenes not skipped automatically: The game always allows cutscenes to be skipped.
This makes a lot of sense, because combat is actually so much fun that there's considerable replay-value to the game which gets much enforced by skippable cutscenes, though some of them you would never ever in your life want to skip - they are so good (you know which ones I'm referring to).
Combat is only one half of the gameplay, the other is exploration: The world of the game is huge and for the first time ever in a JPRG, the simple rule of «you can see it, you can go there» applies. For the first time ever, the huge world is yours to explore and to enjoy.
Never have I seen such variety in locations, especially, again, in the second half of the game which I really don't want to spoil here.
Which brings us to the side-quests: Imagine that you have a quest-log like you're used to from MMORPGs with about the same style of quests: Find this item, kill these normal mobs, kill that elite mob, talk to that other guy - you know the drill.
The non-unique and somewhat random dialog lines between the characters as they accept these side-quests break the immersion a bit.
But the one big thing that's really annoying about the side-quests is discoverability: As a player you often have no idea where to go due to the vague quest texts and, worse, many (most) quests are hidden and only become available after you trigger some event or you talk to the correct (seemingly unrelated) NPC.
While I can understand the former issue (vague quest descriptions) from a game-play perspective, the latter is inexcusable, especially as the leveling curve of the game and the affinity system both really are designed around you actually doing these side-quests.
It's unfair and annoying that playing hide-and seek for hours is basically a fixed requirement to having a chance at beating the game. This feels like a useless prolonging of the existing game for no reason but to, you know, prolong the game.
Thankfully though, by now, the Wiki exists, so whether you're on the Wii or the 3DS, just have an iPad or Laptop close to you as you do the side-questy parts of the game.
Once you're willing to live with this issue, then the absolutely amazing gameplay comes into effect again: Because exploration is so much fun, because the battle system is so much fun, then suddenly the side-quests become fun too, once you remove the annoying hide-and-seek aspect.
After all, it's the perfect excuse to do more of what you enjoy the most: Playing the game.
This is why I strongly believe that this game would have been so much better with a more modern quest-log system: Don't hide (most of the) quests! Be precise in explaining where to find stuff! You don't have to artificially prolong the game: Even when you know where to go (I did thanks to the Wiki), there's still more than 100 hours of entertainment there to be had.
The last thing about quests: Some of the quests require you to find rare items which to get you have a random chance by collecting «item orbs» spread all over the map. This is of course another nice way to encourage exploration.
But I see no reason why the drop rate must be random, especially as respawning the item orbs either requires you to wait 10 to 30 minutes or, saving and reloading the game.
If you want to encourage exploration, hide the orbs! There's so much content in this game that aritifically prolonging it with annyoing saving and reloading escapades is completely unnecessary.
At least, the amount of grinding required isn't so bad to the point of being absolutely bearable for me and I have nearly zero patience for grinding.
Don't get me wrong though: Yes, these artificial time-sinks were annoying (and frankly 100% unneeded), but because the actual gameplay is so much fun, I didn't really mind them that much.
Finally, there are some technical issues which I don't really mind that much however: Faces of characters look flat and blurry which is very noticable in the cut-scenes which are all rendered by the engine itself (which is a very good thing).
Especially on the 3DS the low resolution of the game is felt badly (the 3DS is much worse than the Wii to the point of objects sometimes being invisible) and there's some objects popping into view at times. This is mostly a limitation of the hardware which just doesn't play well with the huge open world, so I can totally live with it. It only minimally affects my immersion into the game.
If you ask me what is the preferred platform to play this on, I would point at the Wii version though, of course, it'll be very hard to get the game at this point in time (no. you can't have my copy).
the good
So after all of this, here's a list of the unique features of this game it has over all other members of its genre:
Huge world that can be explored completely. No narrow hallways but just huge open maps.
Absolutely amazing battle system that goes far beyond of the usual «select some action from this text-based menu»
Skippable cutscenes which together with the battle system make for a high replayability
Many different playable characters with different play styles
Great music by the god-like Mr. Mitsuda
A very, very interesting story once you reach the mid-point of the game
Very believable characters and very good character development
Some of the best cutscene direction I have ever seen in my life - again, mostly after the half-time mark (you people who played the game know which particular one I'm talking about - still sends shivers down my spine).
My wishes for the future
The game is nearly perfect in my opinion, but there are two things I think would be great to be fixed in the successor or any other games taking their inspiration from Xenoblade:
First, please fix the quest log and bring it to the current decade of what we're used to from MMORPGs (where you lifted the quest design off to begin with): Show us where to get the quests, show us where to do them.
Second, and this one is even bigger in my opinion: Please be more considerate in how you represent women in the game. Yes, the most bad-ass characters in the game are women (again, I can't spoil anything here). Yes, there's a lot of depth to the characters of women in this game and they are certainly not just there for show but are actually instrumental to the overall story development (again, second part).
But why does most of the equipment for the healer in the game have to be practically underwear? Do you really need to spend CPU resources on (overblown) breast physics when you render everybodies faces blurry and flat?
Wouldn't it be much better for the story and the immersion if the faces looked better at the cost of some (overblown) jiggling?
Do you really have to constantly show close-ups of way too big breasts of one party member? This is frankly distracting from what is going on in the game.
I don't care about cultural differences: You managed to design very believable and bad-ass women into your game. Why do you have to diminish this by turning them into a piece of furniture to look at? They absolutely stand on their own with their abilities and their character progression.
It is the year 2015. We can do better than this (though, of course, the world was different in 2010 when the game initially came out).
Conclusion
All of that aside: Because of the amazing game play, because of the mind-blowing story, because of the mind-blowing custscene-direction and because of the huge world that's all but narrow passages, I love this game more than many others.
I think that this is the first time that the JRPG game really has moved forward in about a decade and I would definitely like to see more games ripping off the good aspects of Xenoblade (well - basically everything).
As such I'm very much looking forward for the games successor to become available here in Europe (it has just come out in Japan and my Japanese still is practically non-existent) and I know for a fact that I'm going to play it a lot, especially as I now know to be patience with the side-quests.
Read on →
Geek heaven
If I had to make a list of attributes I would like the ISP of my dream to have, then, I could write quite the list:
I would really like to have native IPv6 support. Yes. IPv4 will be sufficient for a very long time, but unless pepole start having access to IPv6, it'll never see the wide deployment it needs if we want the internet to continue to grow. An internet where addresses are only available to people with a lot of money is not an internet we all want to be subjected to (see my post «asking for permission»)
I would want my ISP to accept or even support network neutrality. For this to be possible, the ISP of my dreams would need to be nothing but an ISP so their motivations (provide better service) align with mine (getting better service). ISPs who also sell content have all the motivation to provide crappy Internet service in order to better sell their (higher-margin) content.
If I have technical issues, I want to be treated as somebody who obviously has a certain level of technical knowledge. I'm by no means an expert in networking technology, but I do know about powering it off and on again. If I have to say «shibboleet» to get to a real technicial, so be it, but if that's not needed, that's even better.
The networking technology involved in getting me the connectivity I want should be widely available and thus easily replacable if something breaks.
The networking technology involved should be as simple as possible: The more complex the hardware involved, the more stuff can break, especially when you combine cost-pressure for end-users with the need for high complexity.
The network equipment I'm installing at my home and which has thus access to my LAN needs to be equipment I own and I control fully. I do not accept leased equipment to which I do not have full access to.
And last but not least, I would really like to have as much bandwidth as possible
I'm sure I'm not alone with these wishes, even though, for «normal people» they might seem strange.
But honestly: They just don't know it, but they too have the same interests. Nobody wants an internet that works like TV where you pay for access to a curated small list of "approved" sites (see network neutrality and IPv6 support).
Nobody wants to get up and reboot their modem here and then because it crashed. Nobody wants to be charged with downloading illegal content because their Wifi equipment was suddenly repurposed as an open access point for other customers of an ISP.
Most of the wishes I list above are the basis needed for these horror scenarios never coming to pass, however unlikely the might seem now (though getting up and rebooting the modem/router is something we already have to deal with today).
So yes. While it's getting rarer and rarer to get all the points of my list fulfilled, to the point where I though this to be impossible to get all of it, I'm happy to say that here in Switzerland, there is at least one ISP that does all of this and more.
I'm talking about Init7 and especially their awesome FTTH offering Fiber7 which very recently became available in my area.
Let's deal with the technology aspect first as this really isn't the important point of this post: What you get from them is pure 1Gbit/s Ethernet. Yes, they do sell you a router box if you want one, but you can just as well just get a simple media converter, or just an SFP module to plug into any (managed) switch (with SFP port).
If you have your own routing equipment, be it a linux router like my shion or be it any Wifi Router, there's no need to add any kind of additional complexity to your setup.
No additional component that can crash, no software running in your home to which you don't have your password to and certainly no sneakily opened public WLANs (I'm looking at you, cablecom).
Of course you get native IPv6 (a /48 which incidentally is room for 281474976710656 whole internets in your apartment) too.
But what's really remarkable about Init7 isn't the technical aspect (though, again, it's bloody amazing), but everything else:
Init7 was one of the first ISPs in Switzerland to offer IPv6 to end users.
Init7 doesn't just support network neutrality. They actively fight for it
They explicitly state that they are not selling content and they don't intend to start doing so. They are just an ISP and as such their motivations totally align with mine.
There are a lot of geeky soft factors too:
Their press releases are written in Open Office (check the PDF properties of this one for example)
I got an email from a technical person on their end that was written using f'ing Claws Mail on Linux
Judging from the Recieved headers of their Email, they are using IPv6 in their internal LAN - down to the desktop workstations. And related to that:
The machines in their LAN respond to ICMPv6 pings which is utterly crazy cool. Yes. They are firewalled (cough I had to try. Sorry.), but they let ICMP through. For the not as technical readers here: This is as good an internet citizen as you will ever see and it's extremely unexpected these days.
If you are a geek like me and if your ideals align with the ones I listed above, there is no question: You have to support them. If you can have their Fiber offering in your area, this is a no-brainer. You can't get synchronous 1GBit/s for CHF 64ish per month anywhere else and even if you did, it wouldn't be plain Ethernet either.
If you can't have their fiber offering, it's still worth considering their other offers. They do have some DSL based plans which of course are technically inferior to plain ethernet over fiber, but you would still support one of the few remaining pure ISPs.
It doesn't have to be Init7 either. For all I know there are many others, maybe even here in Switzerland. Init7 is what I decided to go with initially because of the Gbit, but the more I leared about their philosophy, the less important the bandwith got.
We need to support companies like these because companies like these are what ensures that the internet of the future will be as awesome as the internet is today.
Read on →
Thoughts on IPv6
A few months ago, the awesome provider Init7 has released their awesome FTTH offering Fiber7 which provides synchronous 1GBit/s access for a very fair price. Actually, they are by far the cheapest provider for this kind of bandwith.
Only cablecom comes close at matching them bandwidth wise with their 250Mbits package, but that's 4 times less bandwith for nearly double the price. Init7 also is one of the only providers who officially states that their triple-play strategy is that they don't do it. Huge-ass kudos for that.
Also, their technical support is using Claws Mail on GNU/Linux - to give you some indication of the geek-heaven you get when signing up with them.
But what's really exciting about Init7 is their support for IPv6. In-fact, Init7 was one of the first (if not the first) providers to offer IPv6 for end users. Also, we're talking about a real, non-tunneled, no strings attached plain /48.
In case that doesn't ring a bell, a /48 will allow for 216 networks consisting of 264 hosts each. Yes. That's that many hosts.
In eager anticipation of getting this at home natively (of course I ordered Fiber7 the moment I could at my place), I decided to play with IPv6 as far as I could with my current provider, which apparently lives in the stone-age and still doesn't provide native v6 support.
After getting abysmal pings using 6to4 about a year ago, this time I decided to go with tunnelbroker which these days also provides a nice dyndns-alike API for updating the public tunnel endpoint.
Let me tell you: Setting this up is trivial.
Tunnelbroker provides you with all the information you need for your tunnel and with the prefix of the /64 you get from them and setting up for your own network is trivial using radvd.
The only thing that's different from your old v4 config: All your hosts will immediately be accessible from the public internet, so you might want to configure a firewall from the get-go - but see later for some thoughts in that matter.
But this isn't any different from the NAT solutions we have currently. Instead of configuring port forwarding, you just open ports on your router, but the process is more or less the same.
If you need direct connectivity however, you can now have it. No strings attached.
So far, I've used devices running iOS 7 and 8, Mac OS X 10.9 and 10.10, Windows XP, 7 and 8 and none of them had any trouble reaching the v6 internet. Also, I would argue that configuring radvd is easier than configuring DHCP. There's less thought involved for assigning addresses because autoconfiguration will just deal with that.
For me, I had to adjust how I'm thinking about my network for a bit and I'm posting here in order to explain what change you'll get with v6 and how some paradigms change. Once you've accepted these changes, using v6 is trivial and totally something you can get used to.
Multi-homing (multiple adresses per interface) was something you've rarely done in v4. Now in v6, you do that all the time. Your OSes go as far as to grab a new random one every few connections in order to provide a means of privacy.
The addresses are so long and hex-y - you probably will never remember them. But that's ok. In general, there are much fewer cases where you worry about the address.

Because of multi-homing every machine has a guaranteed static address (built from the MAC address of the interface) by default, so there's no need to statically assign addresses in many cases.
If you want to assign static addresses, just pick any in your /64. Unless you manually hand out the same address to two machines, autoconfiguration will make sure no two machines pick the same address. In order to remember them, feel free to use cute names - finally you got some letters and leetspeak to play with.
To assign a static address, just do it on the host in question. Again, autoconfig will make sure no other machine gets the same address.

And with Zeroconf (avahi / bonjour), you have fewer and fewer oportunities to deal with anything that's not a host-name anyways.
You will need a firewall because suddenly all your machines will be accessible for the whole internet. You might get away with just the local personal firewall, but you probably should have one on your gateway.
While that sounds like higher complexity, I would argue that the complexity is lower because if you were a responsible sysadmin, you were dealing with both NAT and a firewall whereas with v6, a firewall is all you need.
Tools like nat-pmp or upnp don't support v6 yet as far as I can see, so applications in the trusted network can't yet punch holes in the firewall (what is the equivalent thing to forwarding ports in the v4 days).
Overall, getting v6 running is really simple and once you adjust your mindset a bit, while stuff is unusual and taking some getting-used-to, I really don't see v6 as being more complicated. Quite to the contrary actually.
As I'm thinking about firewalls and opening ports, actually, as hosts get wiser about v6, you actually really might get away without a strict firewall as hosts could grab a new random v6 address for every connection they want to use and then they would just bind their servers to that address.
Services binding to all addresses would never bind to these temporary addresses.
That way none of the services brought up by default (you know - all those ports open on your machine when it runs) would be reachable from the outside. What would be reachable is the temporary addresses grabbed by specific services running on your machine.
Yes. An attacker could port-scan your /64 and try to find the non-temporary address, but keep in mind that finding that one address out of 264 addresses would mean that you have to port-scan 4 billion traditional v4 internets per attack target (good luck) or randomly guessing with an average chance of 1:263 (also good luck).
Even then a personal firewall could block all unsolicited packets from non-local prefixes to provide even more security.
As such, we really might get away without actually needing a firewall at the gateway to begin with which will actually go great lengths at providing the ubiquitous configuration-free p2p connectivity that would be ever-so-cool and which we have lost over the last few decades.
Me personally, I'm really happy to see how simple v6 actually is to get implemented and I'm really looking forward to my very own native /48 which I'm probably going to get somehwere in September/October-ish.
Until then, I'll gladly play with my tunneled /64 (for now still firewalled, but I'll investigate into how OS X and Windows deal with the temporary addresses they use which might allow me to actually turn the firewall off).
Read on →
pdo_pgsql improvements
Last autumn, I was talking about how I would like to see pdo_pgsql for PHP to be improved.
Over the last few days I had time to seriously start looking into making sure I get my wish. Even though my C is very rusty and I have next to no experience in dealing with the PHP/Zend API, I made quite a bit of progress over the last few days.
First, JSON support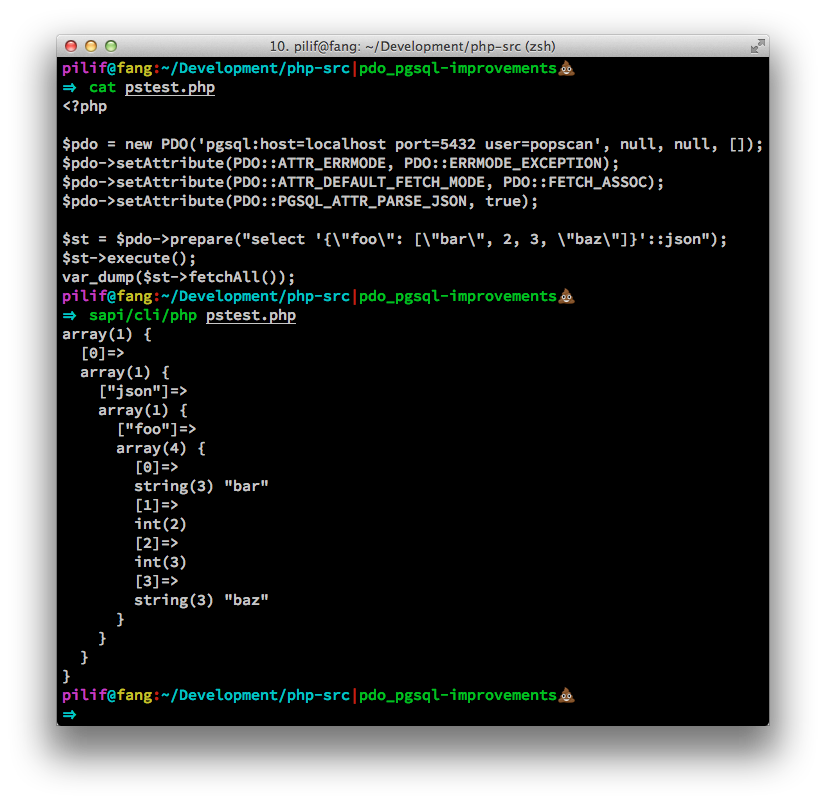 If you have the json extension enabled in your PHP install (it's enabled by default), then any column of data type json will be automatically parsed and returned to you as an array.
No need to constantly repeat yourself with json_parse(). This works, of course, with directly selected json columns or with any expression that returns json (like array_to_json or the direct typecast shown in the screenshot).
This is off by default and can be enabled on a per-connection or a per- statement level as to not break backwards compatibility (I'll need it off until I get a chance to clean up PopScan for example).
Next, array support: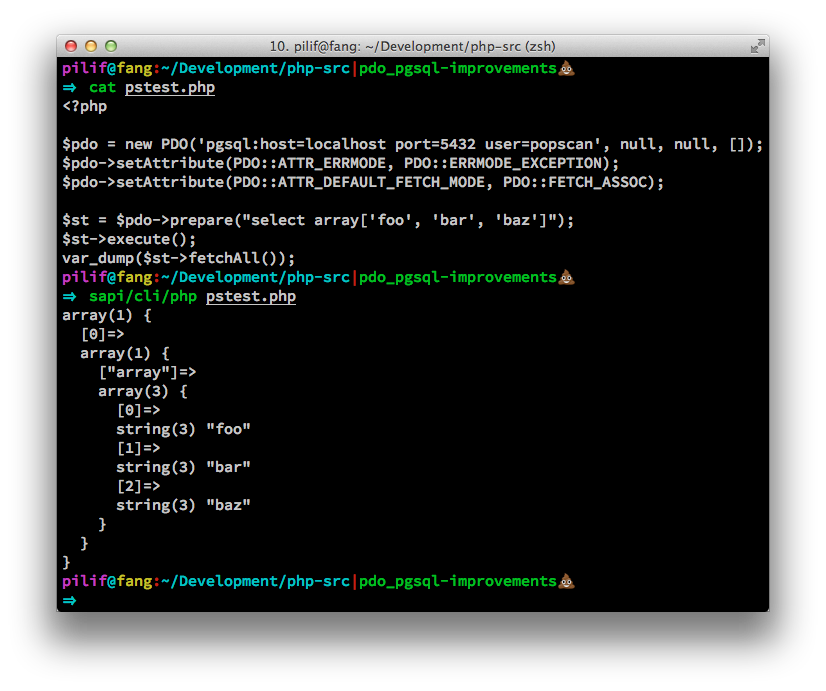 Just like with JSON, this will automatically turn any array expression (of the built-in array types) into an array to use from PHP.
As I'm writing this blog entry here, this only works for text[] and it's always enabled.
Once I have an elegant way to deal with the various types of arrays and convert them into the correct PHP types, I'll work on making this turnoffable (technical term) too.
I'll probably combine this and the automatic JSON parsing into just one setting which will include various extended data types both Postgres and PHP know about.
Once I've done that, I'll look into more points on my wishlist (better error reporting with 9.3 and later and a way to quote identifiers comes to mind) and then I'll probably try to write a proper RFC and propose this for inclusion into PHP itself (though don't get your hopes up - they are a conservative bunch).
If you want to follow along with my work, have a look at my pdo_pgsql-improvements branch on github (tracks to PHP-5.5)
Read on →
---